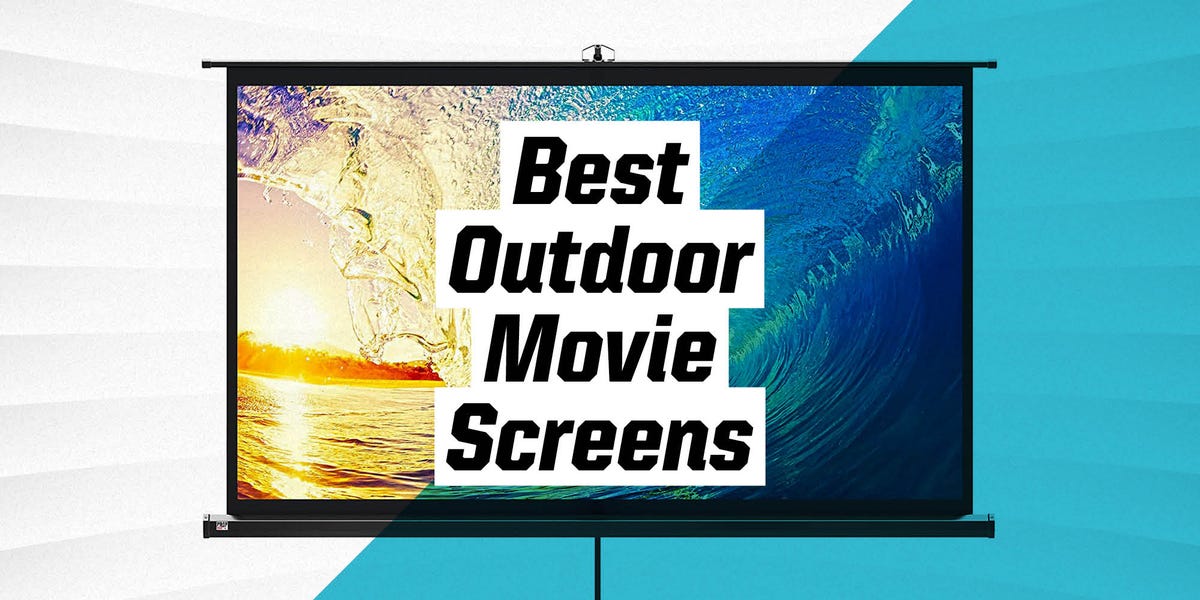 10 Best Outdoor Movie Screens 2021
Table of Contents What to Consider How We Selected Staff There's nothing like enjoying a
There's nothing like enjoying a great film on the big screen. You could project the movie image against the wall of your home or a garage door—but for a crisp, clear picture with excellent color, you really need a screen designed specifically for movie projection. And with these screens, you can do just that at home, without feeling cooped up inside. If you're lucky enough to have an outside space, you can create your own private screening experience, with your own zero-gravity lounge chairs or outdoor sectional and snacks.
What to Consider
While an outdoor movie screen seems like a fairly straightforward purchase, there are a number of things to keep in mind before clicking "buy."
Portability
Do you want to always watch movies in the same place? If so, buying a larger item with a built-in frame or one that is mounted is your best bet. But if you're on the go, or want to be able to use the screen in multiple settings, a smaller or lighter option (inflatable, for example) may be preferable.
Flexibility
If you would like to reserve the option of using the screen indoors, in an office or classroom setting, there are several options, noted below, that are suitable for both indoor and outdoor viewings.
Viewing Quality
To optimize your viewing experience for crisp and bright colors, you'll want to get a screen with black backing, which helps take care of light penetration that would dilute your picture quality. For the best possible quality, check to see if your screen is compatible with your projector's specs, looking at whether it can be paired with 4K Ultra HD or Active 3D. Finally, a standard aspect ratio of 16:9 is ideal for serious movie watching.
Easy to Clean
All of the screens we included below can be cleaned with a damp cloth. An on-the-go viewing experience is sure to pick up a bit of dust and debris, but don't worry. The screens are made with PVC, polyester, or a combination of the two, making them incredibly durable.
How We Selected
We reviewed hundreds of products, and kept a variety of logistical and space constraints in mind. We also wanted to offer movie screens that would suit a range of budgets. All of our final choices come from reputable companies with excellent reputations for customer service. The items themselves are also highly rated by professionals and consumers.
Advertisement – Continue Reading Below
1
Professional Grade
Elite Screens Yard Master Plus Indoor/Outdoor Movie Screen
Elite Screens
amazon.com
$411.00
$360.90 (12% off)
This is one of the best screens on the market, providing professional-grade clarity. The size of the viewing window is 59 x 104.7 inches, and it is framed in silver aluminum. The aspect ratio is 16:9, and can be paired with 4K Ultra HD and Active 3D; it is compatible with standard, short throw and UHD/HD projectors. The screen features a 160-degree viewing angle, with a black backed front-projection screen material. The frame is lightweight and collapsible, but strong; the T-legs are detachable. 
The screen comes with a two-year manufacturers' warranty. Reviewers appreciate how easy it is to set up and store when not in use.
2
Best Budget
Mdbebbron Foldable Projection Screen
This super-budget option has more than 19,000 ratings and reviews on Amazon, most of them 4 stars and above. The compact, one-piece, lightweight, and foldable movie screen can be stashed in a backpack for on-the-go viewing. It works indoors and outdoors, making it ideal for movie night, but also useful in classroom and office settings. 
The viewing area is 58 x 104 inches, and comes in the standard 16:9 screen format. The material of the screen is made of natural polyester, and produces a sharp and bright image. The screen does not come with a separate frame or mount, and must be attached via double-sided adhesive to a wall, which may not work for every space.
3
Best Inflatable
XHYCPY 20-Foot Inflatable Outdoor Movie Screen
XHYCPY
amazon.com
$189.99
$161.49 (15% off)
It doesn't get much easier than this. The white projection screen size is 12.6 x 7.1 feet, with an aspect ratio of 16:9. The projection screen's back is black, with a PVC coating, while the front is white, with a PVC coating. The fine surface creates a palette for high-contrast and good color reproduction. The screen comes with a storage bag, allowing you to bring it on-the-go. 
It can also be blown up in two minutes, simply by plugging it in (an internal fan inflates it). The screen comes with a one-year warranty and a 30-day money-back guarantee.  
4
Best for Breezy Places
JWSIT Projector Screen with Stand
This easy-to-set-up movie screen goes up in a few minutes. The portable frame has metal snaps that can be pressed to quickly fasten the screen to the frame, and detachable legs that can be put together without tools. The projection display is compatible with 3D and 4K Ultra HD, has a standard 16:9 aspect ratio and is designed to provide sharp, high-res images and enriched colors. The black backing prevents light penetration, delivering a clear-as-day display. 
The 100-inch screen and frame are transportable. The screen also comes with ground stakes, rigging cords and support rings, ensuring stability even in breezy conditions. It also comes with a one-year warranty and lifetime tech support. 
5
Best Mounted
Elite Screens Pull-Down Projector Screen
Elite Screens
amazon.com
$79.27
If you have a good place to mount a movie screen, this pull-down model is a great option. Not only is it wallet-friendly, but it's well-made, with a 16:9 aspect ratio and a total viewing size of 49 x 87 inches. 
The black-backed screen takes care of light penetration, ensuring crisp, bright images and colors. The textured matte white screen is made from layers of PVC and polyester, making it weather-resistant and less liable to curl on the edges. When not in use, the screen can be stowed away in its steel frame. 
6
2-in-1 Screen and Projector
DR. J Professional HI-04 Mini Projector and Screen
DR. J Professional
amazon.com
This screen has it all, including the projector! The easy-to-set up self-supported screen comes with a stand. Once assembled, it's 71 x 107 inches. The outdoor screen comes with ground stakes, tethers and a bag to store it in when not in use. 
The projector itself is compatible with TV Box, ChromeBook, PCs, DVD players, Laptops, Smartphones and more. With a lightning HDMI/USB adapter, your iOS device can be connected to the projector. 
7
Best Mega Option
Fitnessandfun 30-Foot Inflatable Projector Movie Screen
fitnessandfun
amazon.com
$689.00
This mega-projection screen is ideal for large spaces. The viewing area is 27.7 x 11.6 feet. To set it up, just plug it in, and it inflates itself. The screen comes with a 30-day moneyback guarantee. Reviewers praised the clarity of the picture, overall quality and impressive size, but warned that breezy conditions bring it down. Some even recommended this screen for outdoor communal events, or large-scale outdoor workouts.
8
Best on Tripod
PropVue Projector Screen with Stand
This projector screen works as a hybrid for movie screenings and office or classroom uses. It's ideal for small spaces too, with a viewing size of 41.2 x 73.2 inches. The projector screen is made with wrinkle-free matte PVC material, a light aluminum frame and is mounted on a light aluminum tripod, secured with straps. It is easily transportable, and can be assembled in three simple steps. The resolution is excellent.
9
Most User Friendly
Getco Tech Double-Sided Projector Screen with Stand
Getco Tech
amazon.com
$79.69
This projection screen is user friendly and a snap to set up. The screen has been made with sturdy material, and a rust-resistant metal and glass-fiber rod frame for extra longevity. The screen can be quickly snapped into the one-piece frame, and the detachable legs can be put together without tools. 
The viewing size is 49 x 87.2 inches, and aspect is the standard 16:9 format. This screen is ideal for outdoor use, but works well inside and in classroom settings. It can be carried around in the black bag it comes with; many reviewers bring it on camping trips. The screen comes with a money-back guarantee. 
10
Best Small Option
Pyle Portable Projector Screen
This highly portable projection screen is lightweight and designed for quick and easy set-up. It's great for small spaces, and despite its relatively micro (19.6 x 34.9 inch) size, it is designed to be weather-resistant and offer premium viewing quality. The screen stands up by itself on any flat surface, and can be hung. Several reviewers recommend taking it on the road and hanging on the side of an RV or truck with Command hooks.
This content is created and maintained by a third party, and imported onto this page to help users provide their email addresses. You may be able to find more information about this and similar content at piano.io
Advertisement – Continue Reading Below