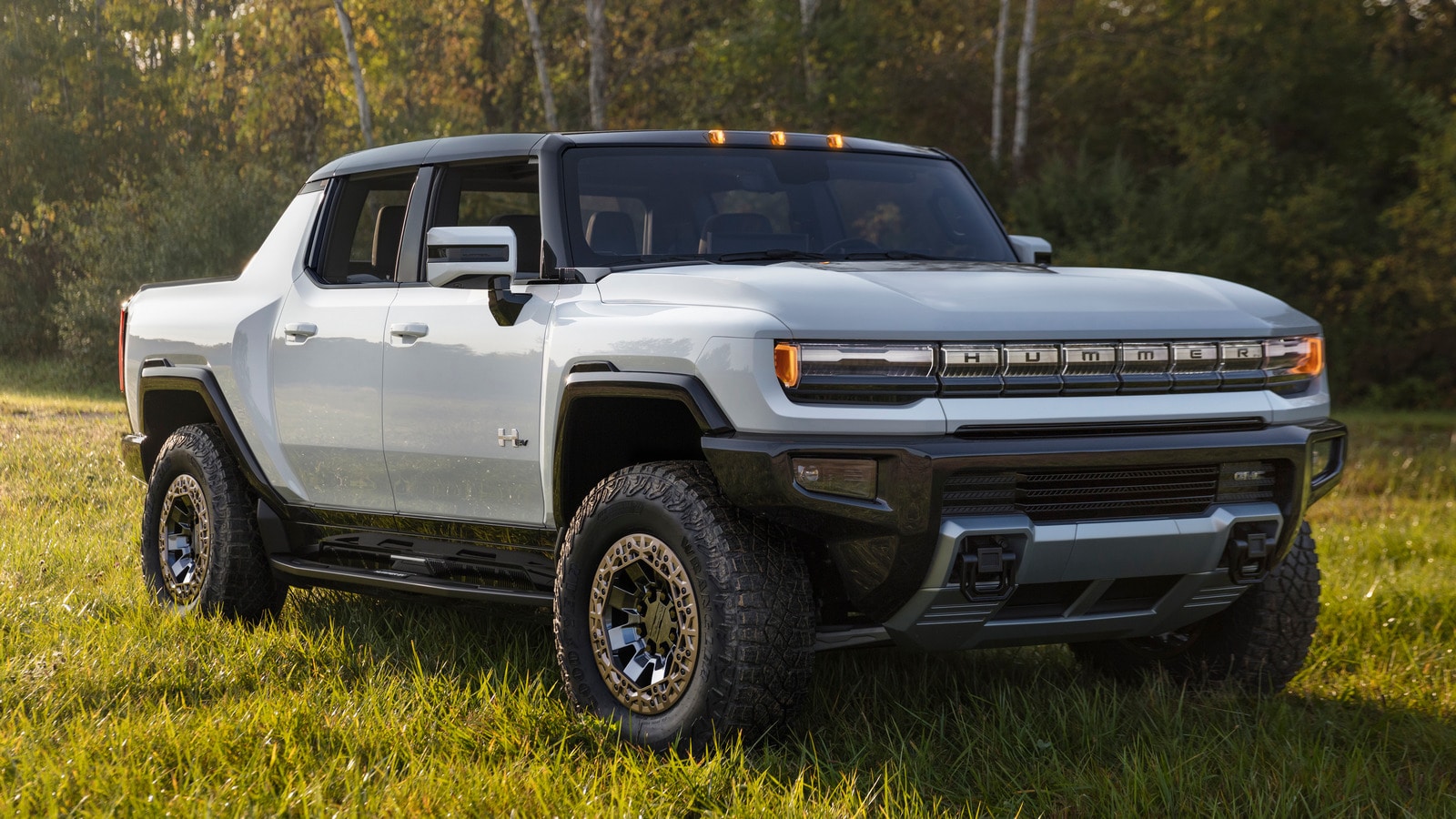 2022 GMC Hummer EV vs. 2021 Rivian R1T Comparison
Table of Contents DesignConstructionCabin FeaturesPerformanceCapabilityPricingGMC Hummer EVRivian R1T GMC Hummer EV AdvantagesRivian R1T AdvantagesThe Bottom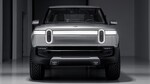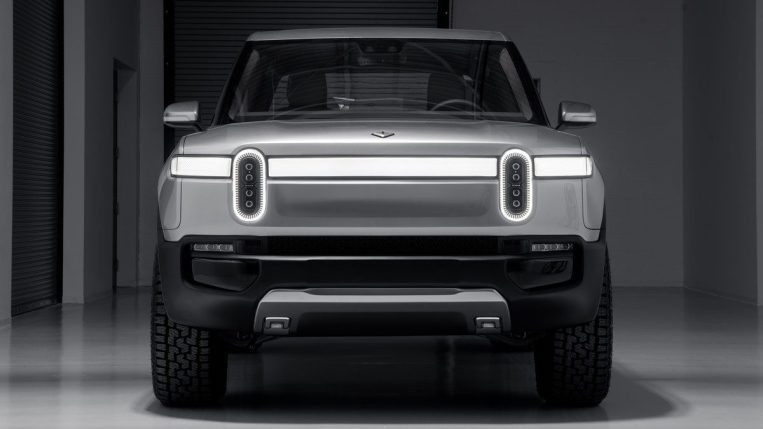 If you want to find two new electric trucks close in performance, pricing, design, and purpose you need to look no further than the 2022 GMC Hummer EV and the 2021 Rivian R1T pickups. The main difference is that one is from an established manufacturer, while the other is a startup in both the EV and truck spaces.
General Motors is bringing back its off-road Hummer nameplate as a GMC model. It blends modern styling that recalls the Hummer H2 SUT introduced in 2002. The GMC Hummer EV has some pickup truck functionality, but the impetus behind the product is its blend of an electric powertrain and off-road prowess.
So, too, is the reasoning behind the Rivian R1T — which combines fresh styling, electric power, and off-road capability in a unique package that will be sold factory direct and not through a traditional dealer network, like the Hummer. Let's take a closer look at how these two new entrants stack up.
Design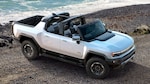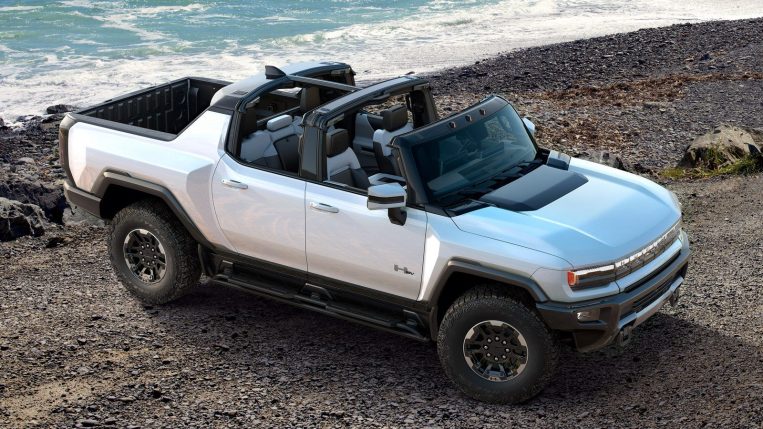 The 2022 GMC Hummer EV reprises the rugged, off-road look Hummer brought from the military to civilian use. It's a fresher take on the original H2's boxy profile, horizontal-slatted grille, and stubby proportions. There's a little more contemporary flair here, however. The greenhouse is more open and it has more of an athletic look that speaks to its use as an off-road vehicle. That aspect is further emphasized through the removable roof panels that promise an open-air experience.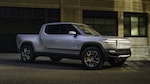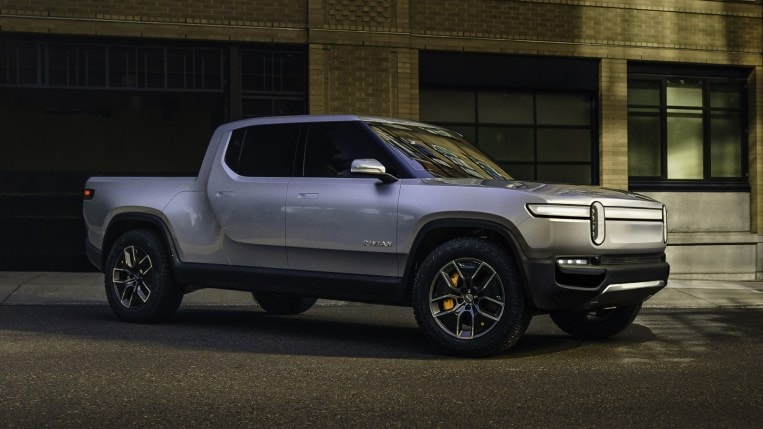 The Rivian R1T has the conventional crew-cab/cargo box profile you expect from a pickup. As an all-new entry, this ground-up design sports a contemporary edge, especially when you look at such details as the oval lighting elements. Exterior features — including tow hooks and skid plates — speak to the off-road nature of this vehicle. And like the Hummer, it has a sleekness to its body contours. Both the Hummer EV and R1T are essentially pickup versions of SUVs that will soon follow.
Construction
The Hummer EV uses conventional steel unit-body construction. It wears under-body armor to protect the EV vitals off-road; these steel plates shield the battery pack and other drivetrain components from rugged terrain. This cladding and the stiff structure provided by the battery pack allow the use of a lightweight composite removable roof that features transparent "Sky Roof" panels.
The Rivian relies on high-strength steel for the chassis and a combination of aluminum and carbon fiber for body panels and other structural elements. This blend of materials results in a lighter weight to compensate for the mass of the battery pack. The Rivian uses a "skateboard" chassis that mounts the battery pack and the front- and rear-axle electric motors between the frame rails. This allows for additional cabin room and storage space in the body that rides atop this structure. This setup gives the R1T a lower center of gravity, which helps both on- and off-road.
Cabin Features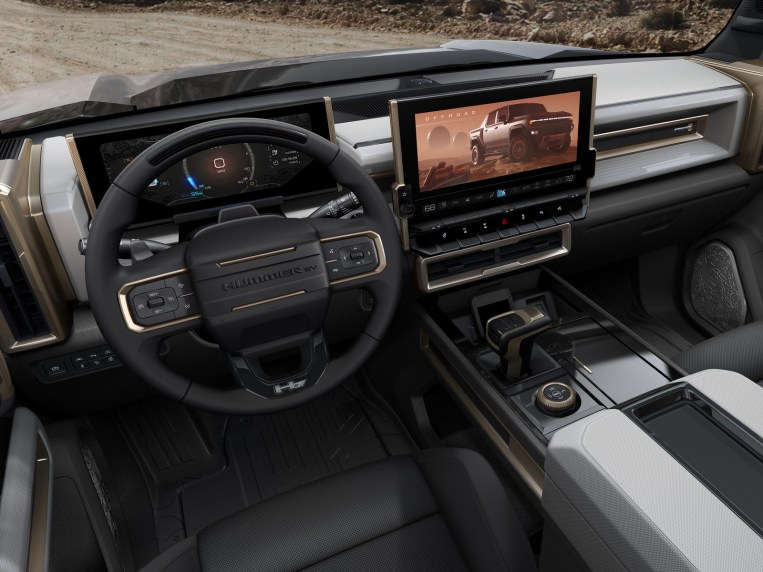 The Hummer EV features seating for five in its 4-door crew-cab configuration. The Hummer is an upscale off-roader, so the interior on all models will be lavishly appointed. Among the features buyers can expect to see are a 12.3-inch digital instrument cluster and a 13.4-inch center infotainment touchscreen. The standard features include removable roof panels, high-definition surround vision cameras, rear-cabin power-drop glass, and premium all-weather floor liners with carpet inserts. The Hummer EV will also boast GM's SuperCruise hands-free driving system.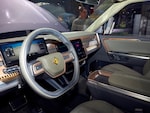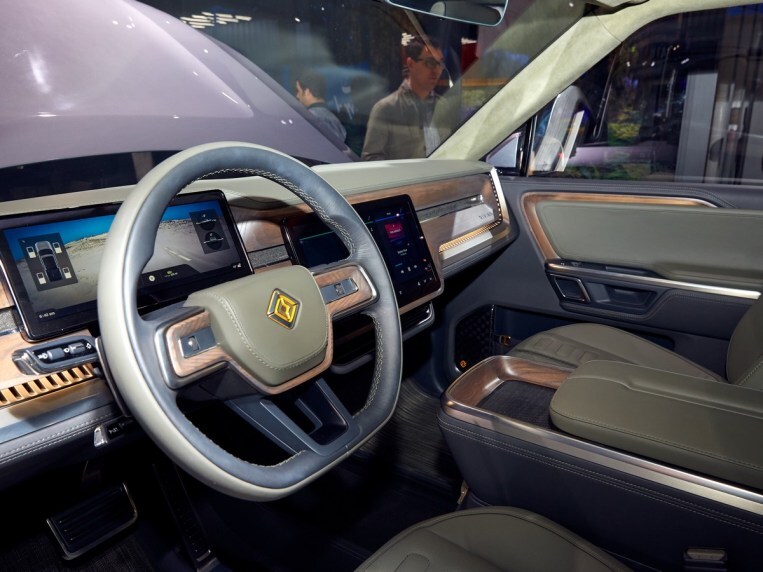 The Rivian has a cabin that reflects its premium nature and avoids the starkness favored by Tesla. Two prominent touchscreens adorn the dash, one containing instrumentation for the driver, the other displaying infotainment. Two trim levels include the base Explorer and upgrade Adventure; the latter features natural-grained ash wood accents and a Meridian premium sound system. You can also tailor the Adventure with a choice of three interior color options. A removable roof option is promised for sometime next year. Rivian also will offer its Driver+ hands-free driving mode similar to GM's SuperCruise that operates on select roadways.
Performance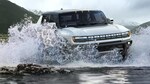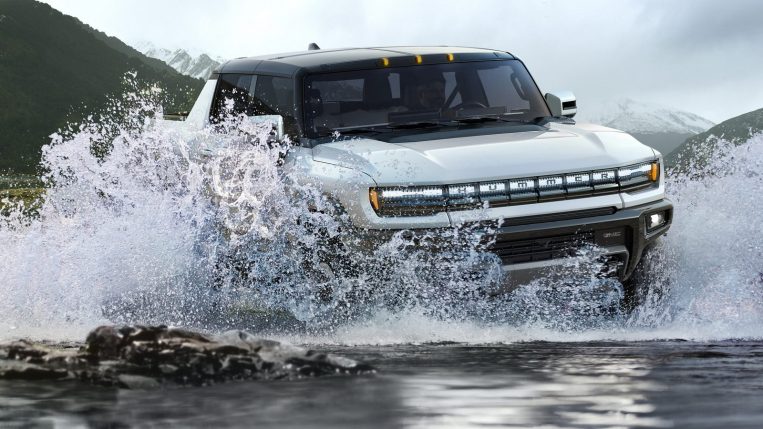 The 2022 Hummer EV will bow late this year as the top-of-the-line First Edition model (already sold out). It boasts three electric motors, more than 300 miles of range, 1,000 horsepower, and 11,500 lb-ft of torque. Its regular production counterpart will be called the Hummer EV3X and will be available in 2022; it is rated at 830 horsepower while the torque rating remains the same. The EV2X follows and boasts two electric motors and 300 miles of range with 625 horsepower and 7,400 lb-ft of torque. It goes on sale in 2023. The base-model EV2 won't see production until 2024, featuring the same horsepower and torque ratings as the EV2x, but only a 250-mile range. First Edition and 3X models will feature Watts to Freedom, a launch system similar to Tesla's Ludicrous mode that promises 0-to-60-mph acceleration of about three seconds.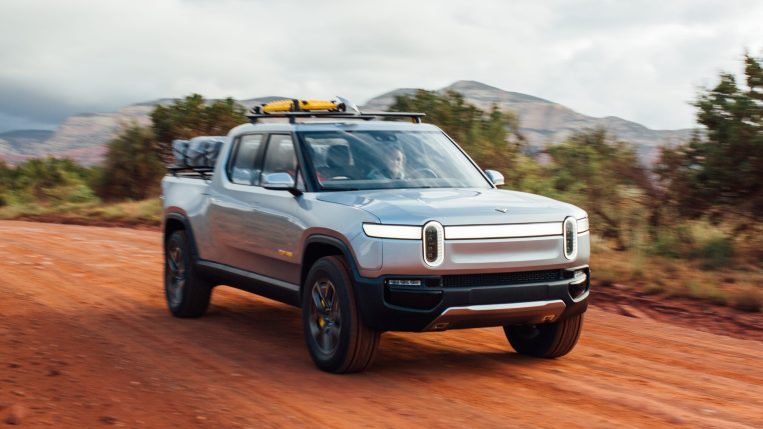 The first R1T models shipped by Rivian promise a range of 300+ miles thanks to a 135 kWh battery pack. In January, a longer-range version with a 180 kWh battery pack will go more than 400 miles between charges. Later on, Rivian will add a 250-plus-mile-range model, which probably will be a lower-priced base truck. All-wheel drive is standard and the R1T delivers 800 horsepower and 900 lb-ft of torque, nearly on par with the standard Hummer EV3X. On the performance front, Rivian expects the R1T to be able to accelerate to 60 mph in as little as three seconds. It also boasts 14 inches of ground clearance and should be able to ford through three feet of water.
Capability
GMC has yet to release towing and payload figures for the Hummer EV. We expect that in top trim with the 11,500 lb-ft torque figure the Hummer's towing capability will be more than 10,000 pounds. The GMC Hummer EV features a 5-foot cargo box sporting GM's flexible-opening Multipro tailgate. A front trunk will accommodate the removable roof panels. We expect the payload capacity to be in the 2,000-pound range, given the size of the bed and the power ratings for the various EV drivetrains.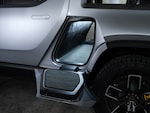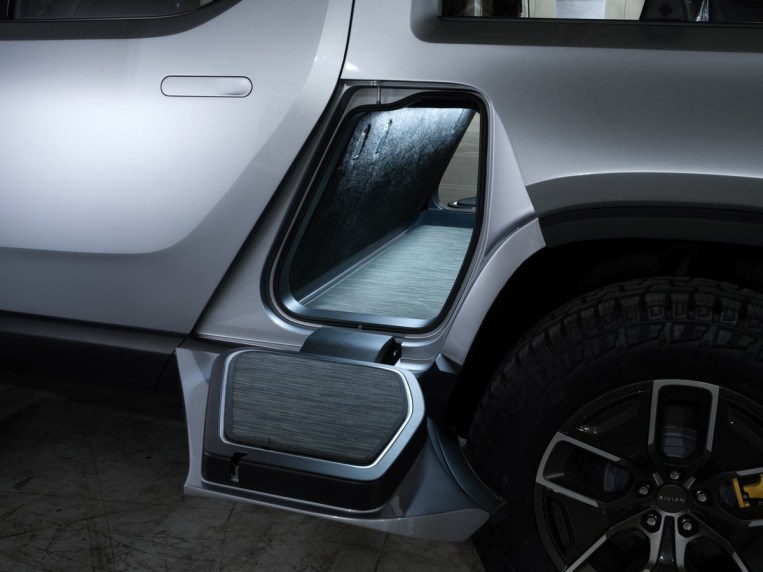 Rivian says the R1T will be capable of towing in excess of 11,000 pounds with a maximum payload of 1,760 pounds. The cargo bed is 54 inches long with the tailgate up, which expands to 83.6 inches with the gate down. In addition to the box, the R1T offers lockable storage under the front hood and some additional lockable storage beneath the rear load floor. Also unique to the vehicle is a "Gear Tunnel" that runs the width of the vehicle behind the rear seat. This 65-inch-long space is watertight and fully enclosed.
Pricing
GMC Hummer EV
EV2 AWD 2-motor: $79,995 (Available 2024)
EV2X AWD 2-motor: $$89,995 (Available 2023)
EV3X AWD 3-motor: $99,995 (Available 2022)
First Edition AWD 3-motor: $112,995 (sold out)
Not eligible for the $7,500 Federal Tax Credit
Rivian R1T
Explorer Package: $67,500
Launch Edition: $73,000 (sold out)
Adventure Package: $73,000
Eligible for the $7,500 Federal Tax Credit
GMC Hummer EV Advantages
It's almost as if being a pickup is incidental to the reason why buyers will be interested in the 2022 Hummer EV. Underscoring that fact is the advent of an SUV version of essentially the same vehicle. Still, the open back and Multipro tailgate will give the Hummer EV a practical bent that other off-road vehicles of its ilk lack. Still, with only a 5-foot bed, its cargo-carrying capability may be somewhat compromised — not so much from a weight perspective, but rather size. Stowing an off-road toy could be a bit of a challenge here.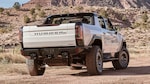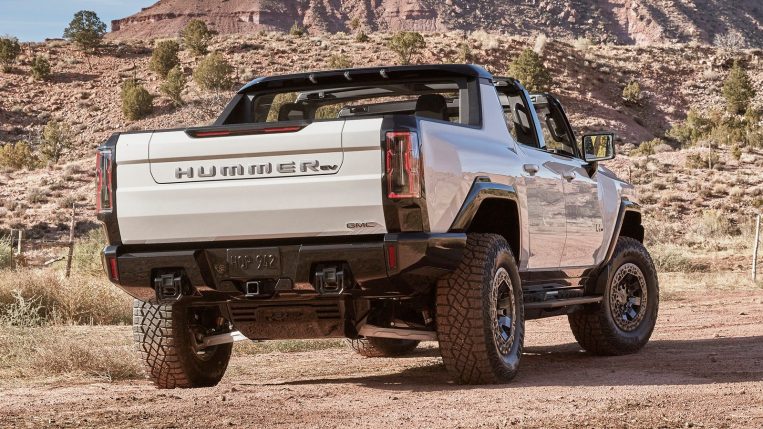 As a much more expensive vehicle, the Hummer EV is more of a recreational piece than a work truck. It also boasts technology like SuperCruise, the ability to move sideways thanks to its Crab Walk system, and the option to quick charge at 800 volts.
Rivian R1T Advantages
Rivian, like the GMC Hummer EV, is looking to break new ground in the pickup market, not only for its electric drivetrain but also in the off-road capability of its truck. Its innovative approach to space utilization, especially with its Gear Tunnel and multiple lockable storage areas, will make the Rivian R1T a good backwoods companion. It also offers a modern, yet more conventional take on the pickup, which may prove to be an asset in attracting those put off by Tesla Cybertruck's polarizing design.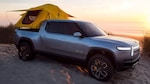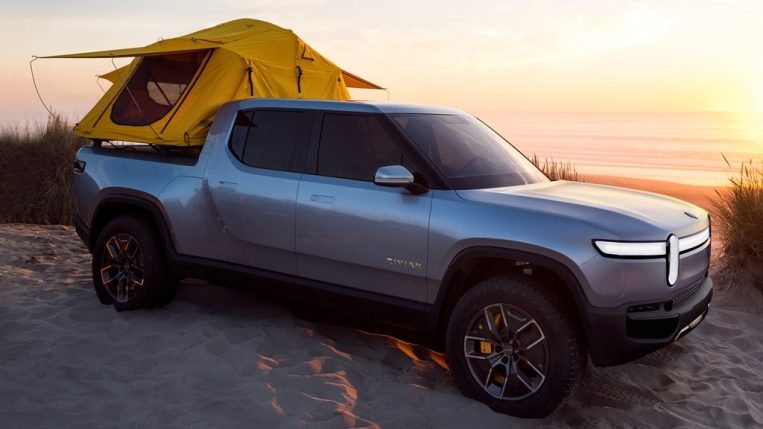 With its 4-motor all-wheel-drive configuration and 14 inches of ground clearance, the Rivian R1T promises to offer the kind of off-road capability that will certainly give GMC a run for its money. Speaking of money, Rivian is also boasting prices $10,000 lower and the vehicle qualifies for the full $7,500 Federal Tax Credit.
The Bottom Line
The 2022 GMC Hummer EV is rightly considered a ground-breaking vehicle, especially for a mainstream manufacturer like GM. From its open-air cabin to its ability to get in and out of tight off-road spaces, the Hummer is likely to find a following among those who consider the brand an icon.
Rivian will also be targeting electric truck buyers who use their vehicles more for recreation than work. The specs are promising and Rivian's business model of using direct sales and regional centers and mobile home service could very well be the wave of the future.
Related: